Hyundai has revealed details of its Kona Electric small crossover SUV, which will deliver up to 490km (305 miles) of WLTP range when it launches later this year.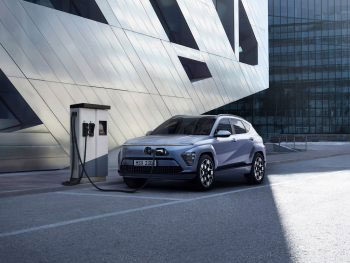 The brand says its unconventional EV-to-ICE development process has led to a futuristic EV-centric exterior
The new-generation model was unveiled late 2022 and will once again be offered in fully electric, full hybrid and mild hybrid ICE forms, all of which will be available in a sporty N Line performance variant. Each one will have a "universal architecture" and "unique styling", according to the brand.
Early details of the fully electric version have now been revealed in a digital world premiere, ahead of its expected arrival this autumn.
Rather than the conventional ICE-to-EV development process, Hyundai has used the new Kona Electric to provide the basis for all models. This is in line with the company's announcement in March 2022 that it's stepping up its electrification plans and will bring 11 new Hyundai EVs to market by 2030.
The brand says the EV-to-ICE process has led to a futuristic EV-centric exterior that "accentuates the SUV's pure volume to make a rugged and dynamic impression".
Based on customer feedback, Hyundai has also upsized the Kona. The EV variant is now 175mm longer than the previous generation in 2017, 25mm wider, 20mm taller and with a 60mm longer wheelbase. The interior is larger and wider while boot space is up to 466 litres (VDA standard) and with 27 litres of "frunk" storage.
It will be offered in two versions: Standard Range with a 48.4kWh battery and 156hp of power, plus Long Range with a 65.4kWh battery and 218hp of power. Both deliver 255Nm, are front-wheel drive and support up to 400V charging, compared with 800V for the Ioniq 5 and 6.
As with the Hyundai's Ioniq 5 and 6, the Kona Electric gets a Vehicle-to-Load (V2L) function that can power any device or charge electrical equipment.
It also features a new version of the i-Pedal system, which allows drivers to accelerate, decelerate and stop using only the accelerator pedal and features a Smart Regenerative System to automatically adjust the amount of regenerative braking based on information from forward traffic flow.
Onboard tech includes dual 12.3-inch panoramic display screens, a Digital Key 2 Touch system – which enables the Kona to be locked, unlocked and started through smart phones or smart watches – and full over-the-air updates.
The new Kona will also be the first Hyundai model to use the new Connected Car Navigation Cockpit, which provides advanced graphics for vehicle displays.
Safety tech includes Hyundai's SmartSense Advanced Driver Assistance System and safety systems, including Level 2 autonomous driving, Forward Collision Avoidance Assist , Blind-spot View Monitor, Remote Smart Parking Assist and Driver Status Monitor.
N Line versions get specific design details such as black mirrors, wing-type spoiler and optional black roof, more aggressive front and rear designs with wing-shaped bumper, twin exhausts and silver side skirt.
Full UK specifications and prices will be announced closer to launch.