Electric vehicle uptake in Australia reached a new high with 33,410 EVs sold in 2022. Today, The Driven released a list of models and volumes sold and looks ahead to an even more exciting 2023.
Tesla leads the way, accounting for 58.6 percent of sales
Tesla, the world's largest electric vehicle brand accounts for 58.6 percent of total sales in 2022. Tesla sold a total of 19,594 electric vehicles in Australia.
As part of its growth later this year, Tesla aggressively began rolling out its Tesla Supercharger stations in an attempt to match the holiday charging needs of existing and new owners.
Tesla also made price cuts across the lineup to kick off 2023, with the goal of selling more Tesla Y models in 2023 to surpass its current best-selling Model 3 sedan.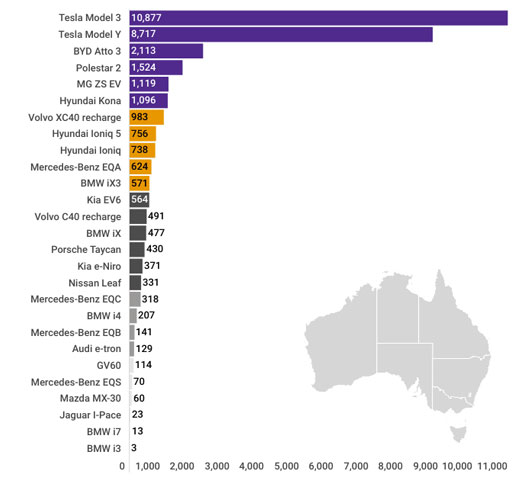 Mercedes-Benz EQA Leads Luxury Electric Vehicle Market
With its EQA, Mercedes-Benz led the luxury market for electric vehicles with more than 624 units sold during the year. the EQC SUV was the brand's next best-selling model, accounting for 318 units of total sales.
Mercedes-Benz also launched the EQB in the final quarter of the year, one of the first electric vehicles to have a seven-seat option in Australia.
The EQB ended the year with 141 units sold and will play an even bigger role in Mercedes-Benz electric vehicle sales in 2023. Its most luxurious EQS model also sold 70 EVs in 2022. More models will land this year, including the EQV, its first luxury mobility vehicle.
Volvo hits the ground running with the C40
In the second half of 2022, Volvo Cars Australia launched their C40 SUV. its sleeker styling, sustainable interior materials and range meant that 491 SUVs were sold across Australia.
At the same time as the C40 was launched, Volvo also announced that it planned to stop selling all of its internal combustion engine models by 2026, meaning only electric cars in the future.
This is the first time any traditional brand has announced full electrification in Australia by 2030, painting a promising picture for the future.
Porsche Taycan sells 430 electric cars without Tesla Model S
Porsche had a good year in 2022, selling 430 of its sports car heritage EVs in Australia. That's down from 531 sales in 2021. The surprisingly low sales come without Tesla's flagship Model S sedan, which Porsche arguably competes with.
Porsche, the luxury sports brand, achieved an important milestone in 2022. the 100,000th Porsche Taycan was produced for a customer in France in November.
With the delayed launch of the Porsche Macan electric car, the Taycan is also expected to be Porsche's best-selling electric car in 2023.
Nissan LEAF quietly ends 2022 with more than 300 units sold
The Nissan LEAF is synonymous with launching the popularity of electric vehicles in Australia more than 10 years ago. In 2022, Nissan sold 331 units of the new Nissan LEAF to local customers. That's down from the 367 units it sold in 2021.
With the introduction of electric hatchbacks from every other brand in 2023, this is a good indication of how far ahead the LEAF is at some point. Without a model upgrade, the Nissan LEAF is unlikely to win the support it once had for EV buyers this year.
Kia's e-Niro update and EV6 help Kia reach more than 900 electric vehicles
Kia refreshed its e-Niro in 2022, which helped it sell 371 electric vehicles. Combined with the popularity of the EV6, Kia sold 935 electric vehicles in that year.
In 2023, the e-Niro and EV6 are expected to sell more EVs as more attention is paid to FBT rules and national strategies. We will be watching this area closely.
Mazda does sell electric cars in Australia
Mazda's only all-electric version, the MX-30, will sell 60 units in Australia in 2022. It offers a range of 224 kilometers, which is lower than what is expected for an electric car in 2023. Its price is also higher than the Tesla Model 3, which offers twice the range. the MX-30 starts at $71,148.
With the brand's primary focus on internal combustion engine vehicles, there won't be much change in sales in 2023.
The electric car boom in 2023
With all signs pointing in the right direction, electric vehicle uptake is expected to soar in 2023. Many new EV models are expected to be launched in this year, while the supply of existing models will also increase. This will provide more options for those looking to switch to electric vehicles, which will ultimately contribute to the boom.