Why Tesla,BMW and BAIC charging station are not the same before 2012?How many standard of charging interface over the world?What are their advantages and disadvantages? AG ELECTRICAL would like to sort out the standards of connector over the world.

1/Combo: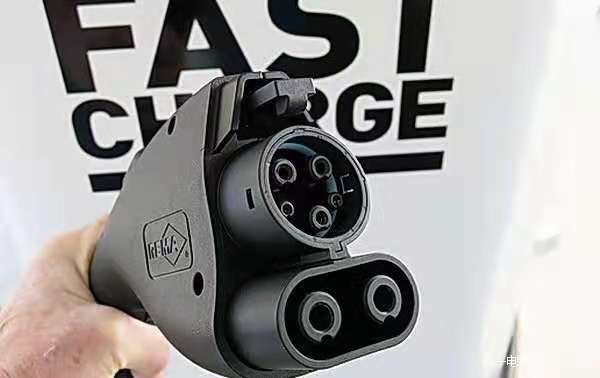 Combo charging allows to charge AC and DC current,it is most widely used in Europe vehicle car ,including Audi,BWM,Daimler,FORD,G.M,Porsche.Volkswagen are equipped with SAE(society of Automotive Engineers)charging interface.
On 2ed of October,2012,the SAE J1772 reversion which is voted by relevant members of SAE committee,becomes the only formal DC charging standard in the world.Based on the revised edition of J1772,Combo charging is the core standard of DC charging.
The previous version(formulated in 2010)of this standard specified the specification of J1772 connector used for AC charging.This connector has been widely used compatible with Nissan Leaf, Chevrolet Volt and Mitsubishi i-MiEV.While the new version, in addition to having all former functions, with two more pins, which is especially for DC fast charging, can't be compatible with old BEVs produced now .
Advantage :the greatest benefit of Combo Connector is automaker only need to one socket that is capable for both DC and AC ,charging at two different speeds .
Disadvantage: Fast charging mode requires the charging station to provide up to 500 V and 200 A.
2/CHAdeMO: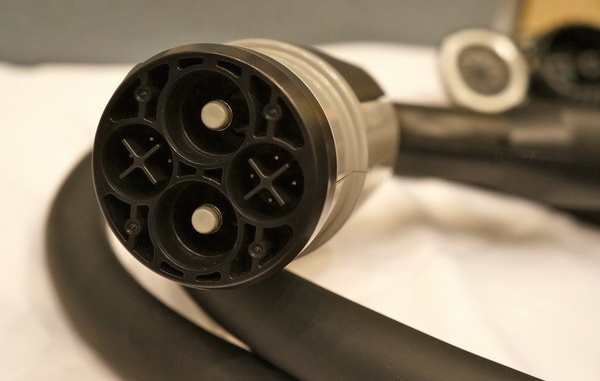 CHAdeMO is the abbreviation of CHArge de Move,it is the charger supported by Nissan and Mitsubishi. CHAdeMO translated from Japanese, the meaning is "Making the charging time as short as tea break". This DC quick-charge socket can provide a maximum 50KW charging capacity.
EVs that support this charging standard include: Nissan Leaf, Mitsubishi Out lander PEV, Citroen C-ZERO, Peugeot Ion, Citroen Berlingo, Peugeot Partner, Mitsubishi i-MiEV, Mitsubishi MINICAB-MiEV, Mitsubishi MINICAB-MiEV truck, Honda FIT EV, Mazda DEMIOEV, Subaru Stella PEV, Nissan Eev200 etc. Note that Nissan Leaf and Mitsubishi i-MiEV both have two different charging socket, one is J1772 that is Combo connector in the first part , the other one is CHAdeMO.
CHAdeMO charging method is shown as below photo, the current is controlled by CAN bus signal. That is to say, while monitoring battery status ,calculate the current the charger needs in real time and send notifications to charger via CAN, the charger receives the command of current from car promptly ,and provide the charging current accordingly .

Through battery management system, the battery condition is monitored while the current is controlled in real time, which fully achieves the functions required for fast and safe charging, and ensures that the charging is not restricted by the battery versatility. There are 1154 charging station come to use which are installed according to CHAdeMO in Japan. CHAdeMO charging stations are widely used in the US as well, there are 1344 AC fast charging station according to the latest data from the U.S. Department of Energy.
Advantage: Except data control lines, CHAdeMO adopts "CAN" bus as communication interface, because of its superior anti-noise and high error detection ability, it is of stable communication and high reliability. Its good charging safety record has been recognized by the industry.
Disadvantage :the initial design for output power is 100KW ,the charging plug is very heavy ,the power in car side is only 50KW .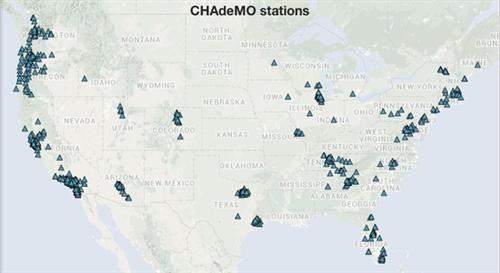 3/Tesla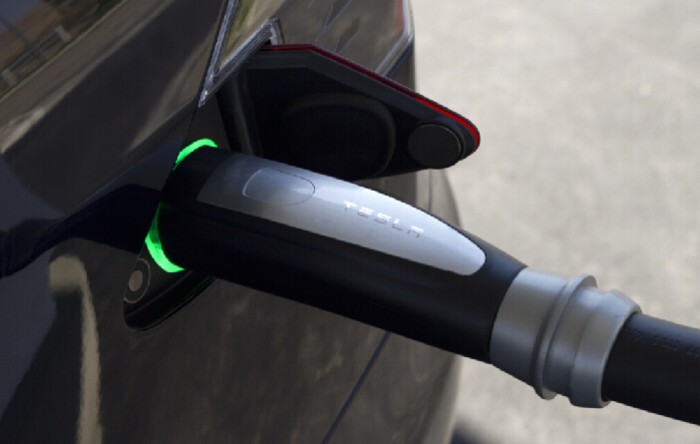 Tesla has its own charging standard, which claims it can charge more than 300 KM in 30 minutes. Therefore, the maximum capacity of its charging socket can reach up 120kW, and the maximum current 80A.
Tesla has more then 1000 sets super charging stations in the US at present. To enter into China market ,It has sets more and more Super charging stations located in Shanghai(3), Beijing(2), Hangzhou(1), Shenzhen(1)and other cities. Besides, To better integrate with the regions, Tesla plans to relinquish control of its charging standards and adopt local standards, it already does in China.
Advantage:advanced technology with high charging efficiency .
Disadvantage: Contrary to each country's standards, it is difficult to increase sales without compromise;if compromise, the charging efficiency will be reduced.They are in a dilemma.
4/GB/T 20234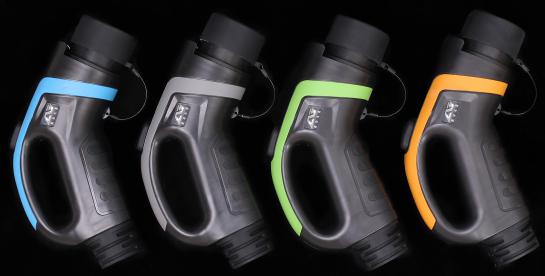 China released Plugs, Socket-outlets, vehicle coupler and vehicle inlets for conductive charging of electric vehicles-General requirements in 2006(GB/T20234-2006),this standard specifies the method of connection types for 16A,32A,250A AC charging current and 400A DC charging current It is mainly based on the standard of International Electrotechnical Commission (IEC) in 2003 . But this standard does not define the number of connecting pins, physical size and interface for the charging interface.
In 2011, China has released a recommended standard GB/T20234-2011, replaced some contents of GB/T20234-2006, it states that AC rated voltage shall not exceed 690V, frequency 50Hz, rated current shall not exceed 250A; Rated DC voltage shall not exceed 1000V and rated current shall not exceed 400A.
Advantage:Compare with 2006 Version GB/T, it has calibrated more details of the charging interface parameters.
Disadvantage:the standard is still not thorough. It is a recommended standard, not compulsory.
5/CCS(Combined Charging System)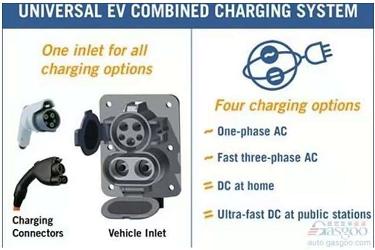 Ford, General Motors, Chrysler, Audi, BMW, Mercedes-Benz, Volkswagen and Porsche launched the "Combined Charging System" in 2012 in an effort to change the confusing standards for charging ports. "Combined Charging System" or known as CCS.
CCS unified all current charging interfaces, in this way, it can charge single phase ac charging, fast 3 phase ac charging, residential use DC charging and super-fast DC charging with one interface.
Except SAE, ACEA (European Automobile Manufacturers Association) has adopt CCS as DC/AC charging interface as well. It is used to all PEV in Europe from the year of 2017.Since Germany and China unified the standards of electric vehicles, China has joined into this system as well, it has provided unprecedented opportunities for Chinese EV . ZINORO 1E,Audi A3e-tron, BAIC E150EV, BMW i3, DENZA,Volkswagen E-UP, Changan EADO and SMART all belong to the "CCS" standard.
Advantage : 3 German automakers :BMW, Daimler and Volkswagen -- will increase their investment in Chinese EV, CCS standards may be more beneficial to China.
Disadvantage: sales of the EV which is supported CCS standard are small or just come onto the market .
New standard"chaoji" charging system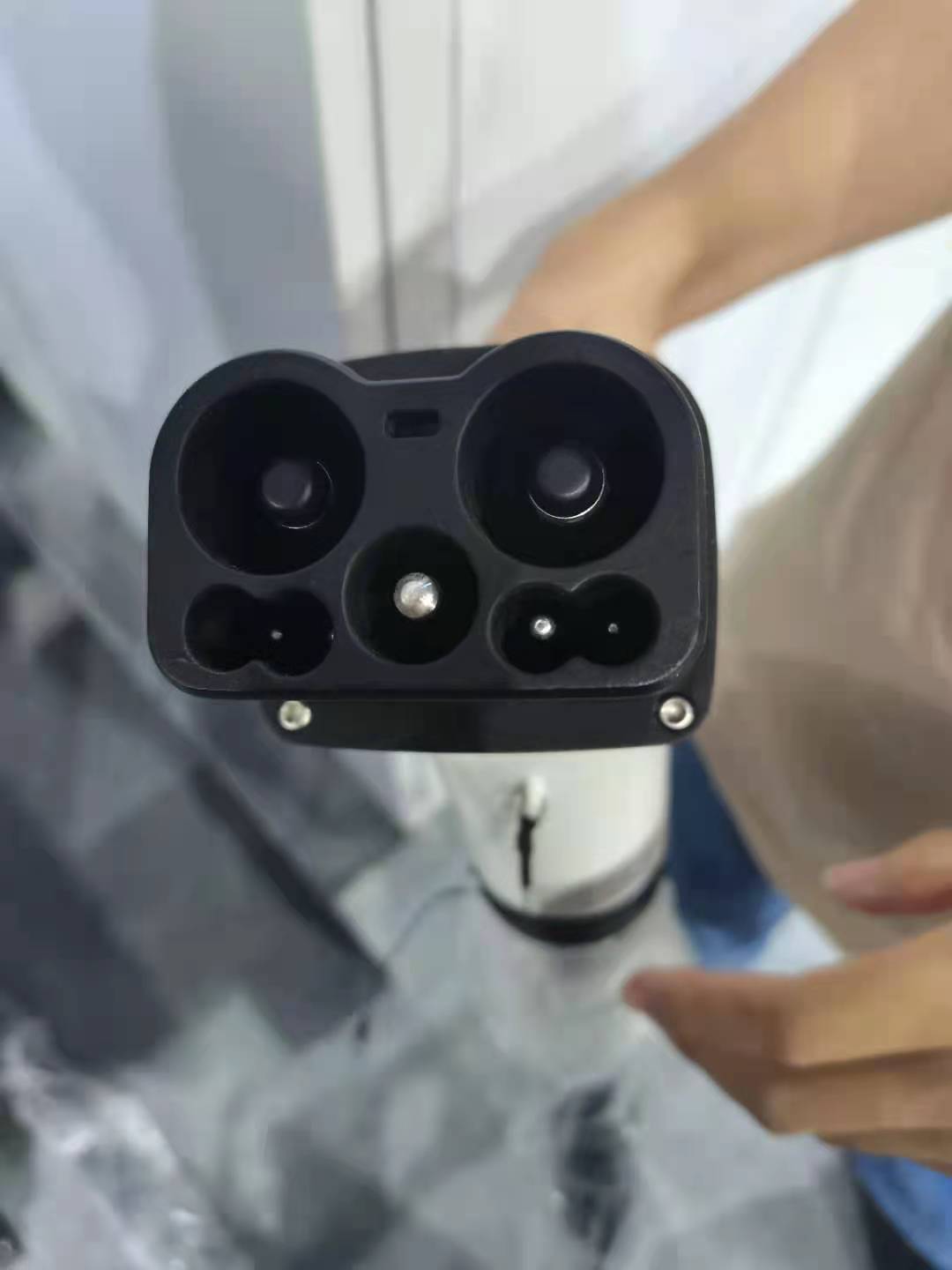 In 2020, China Electric Power Council and the CHAdeMO Agreement jointly launched the "Chaoji" industrialization development route research, and respectively release the White Paper on "Chaoji" Conductive Charging Technology for Electric Vehicles and the CHAdeMO 3.0 standard.
"Chaoji" charging system can be compatible for both older and newly developed EV. Developed a new control and guidance circuit scheme ,added the hard node signal ,when a fault occurs, the semaphore can be used to quickly inform the other end to make a quick response in time to ensure the safety of charging. Establish a safety model for the whole system , Optimize insulation monitoring performance, defined a series of safety issues such as I2T, Y capacitance, PE conductor selection, maximum short circuit capacity and PE wire break. Meanwhile, re-evaluated and redesigned the thermal management system, proposed a test method for charging connector.
The "Chaoji" charging interface uses a 7-pin end face design with a voltage up to 1000 (1500) V and a maximum current of 600A.The "Chaoji" charging interface is designed to reduce the overall size, optimize the fit tolerance and reduce the power terminal size to meet the IPXXB safety requirements. At the same time, the design of physical insertion guide deepens the insertion depth of the front end of the socket, in line with the requirements of ergonomics.
"Chaoji" charging system is not only a high-power charging interface, but a set of systematic DC charging solutions for EVs, including control and guidance circuit, communication protocol, design and compatibility of connecting devices, safety of charging system, thermal management under high-power conditions, etc."Chaoji" charging system is a unified project for the world, so that the same electric vehicle in different countries can be applied to the charging system of the corresponding countries.
Conclusion:
Nowadays, automakers around the world have gradually realized that "standard" is the key factor for the development of EVs. In recent years, global charging standards have gradually shifted from "diversification" to "centralization". However, in order to truly achieve unified charging standards, in addition to interface standards, current communication standards are also needed. The former is related to whether the joint fits or not, while the latter affects whether the plug can be energized when inserted. There is still a long way to go before charging standards for EVs are fully standardized, and automakers and governments need to do more to open up their stance to make EVs last long. It is expected that China as a leader to promote the "Chaoji" conductive charging technology standard for EVs will play a greater role in the future.