The 20th Shanghai International Automobile Industry Exhibition is being held in full swing, marking the first international A-level automobile exhibition in China after the optimization and adjustment of epidemic prevention and control policies.
What are the ways to launch a new product? How can new energy vehicles continue their popularity? What "black technologies" do cross-border players bring? Many new signals were reflected at the car show.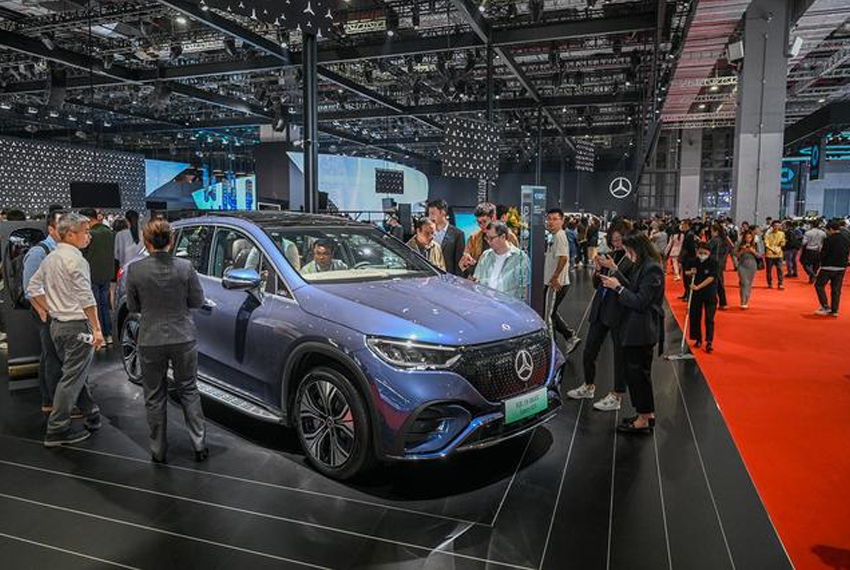 New Face: Shanghai Auto Show Becomes the Global First Place for New Products
In the crowded auto show, the most attention grabbing ones are the world's first ever new cars. These debut new cars are a "vote of trust" invested by multinational car companies in the Chinese market, and also the "golden key" for Chinese companies to appear on the world stage.
On the morning of the 18th, the Italian luxury car brand Maserati brought the global debut of the Grega pure electric SUV and the Asian debut of a pure electric sports car.
It's great to see the bustling traffic and crowds at the Shanghai Auto Show again. The Shanghai Auto Show is not only a grand event for the industry, but also an important manifestation of China's continued economic growth. "said Bo Jiaming, the Managing Director of Maserati Greater China, who chose to release a heavyweight pure electric vehicle model at the Shanghai Auto Show. On the one hand, it's because China is at the forefront of technology, especially new energy technology, and on the other hand, it's because China is an important market for future pure electric vehicles.
There are also many global first models brought by Chinese automobile companies. There is no B-pillar facing door, with an innovative 4-seater layout. The passenger seat can rotate outward by 45 degrees to open the welcome mode, and can also rotate backward by 180 degrees to become a high-end card seat... After the debut of the SAIC MAXUS "Large Pure Electric Performance Pickup" GST concept car at the Shanghai Auto Show, it has attracted the attention of many professionals.
Chery iCAR debuted at the Shanghai Auto Show with two global debut new cars, the iCAR GT and iCAR 03. Chery Automobile Chairman Yin Tongyue said that the iCAR brand is aimed at the "new generation" of young people and is the "vanguard of inheritance and evolution" of the group.
New energy: from alternative to mandatory
According to statistics from the China Association of Automobile Manufacturers, in the first quarter, China's new energy vehicle production and sales reached 1.65 million and 1.586 million units, respectively, with year-on-year growth of 27.7% and 26.2%, and a market share of 26.1%.
In China, the world's largest new energy vehicle market, new energy has become a must-have for domestic and foreign car companies. At the Shanghai Auto Show, many global automotive companies released a comprehensive timetable and roadmap for "embracing" new energy vehicle models.
On the evening of the 17th, the Volkswagen ID.7 pure electric sedan was launched globally in Shanghai with a newly developed intelligent solution. On the 18th, Volkswagen announced another major move: investing approximately 1 billion euros to establish a research and development, innovation, and procurement center focused on intelligent connected electric vehicles in China.
In an interview with reporters, Volkswagen Group's Chairman of the Management Board, Obermo, who led a delegation to attend the Shanghai Auto Show in China, said that by 2030, Volkswagen Group is expected to release over 30 pure electric models in China.
Chinese automobile companies also focus on new energy. SAIC Group released its "Three Year Action Plan for the Development of New Energy Vehicles" on the 18th, predicting that by 2025, SAIC's annual sales of new energy vehicles will reach 3.5 million units, a 2.5 fold increase from 2022, and a compound annual growth rate of 50%.
SAIC Group introduced that the company is accelerating the research and development of solid-state battery cells, fully promoting the large-scale application of solid-state batteries. In 2025, the first self owned brand mass-produced vehicle equipped with solid-state batteries will be officially launched, with higher energy density and safety performance of power batteries.
Chery and Ningde Times jointly announced the creation of a new battery brand ENER-Q, which will cover all application scenarios of all power types and all material systems. At the same time, Ningde Times sodium ion batteries will debut Chery models.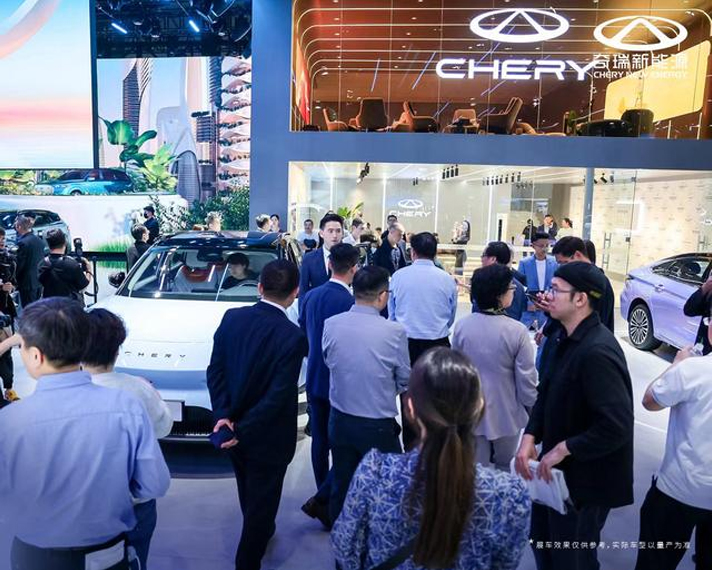 New Track: Cross border Players Bring "Black Technology"
Why did technology companies such as Huawei, Tencent, Baidu appear at the auto show? The reporter found that these technology companies are bringing more possibilities for future travel.
At the 2021 Shanghai Auto Show, Huawei's autonomous driving technology made its first public test drive. Two years later, Huawei's Advanced Intelligent Driving System 2.0 debuted on the eve of the 2023 Shanghai Auto Show. The first model equipped with this system, the AITO Wenjie M5 (configuration | inquiry), became one of the star exhibits at the Shanghai Auto Show.
It is reported that Huawei's advanced intelligent driving system 2.0 can achieve intelligent driving without maps, which is more in line with the practical application scenarios of complex road conditions, frequent emergencies, and rapidly changing infrastructure construction.
Wang Yanmin, President of Huawei's BG Intelligent Selection Car Business (Configuration | Inquiry), said that technology companies can deeply empower the automotive industry. Huawei is willing to become an active participant in the industry, including playing an active role in fields such as autonomous driving and operating systems, to achieve China's independent and controllable control of related technologies
Similar to autonomous driving, intelligent cockpit is also one of the hot areas of automotive evolution. During the Shanghai Auto Show, Tencent Cloud Intelligent Car Voice Assistant launched a scenario based AI training program, which can help car companies respond in a timely manner based on feedback from car owners, and help car companies achieve rapid iteration and launch of their needs.
Tencent Senior Executive Vice President Tang Daosheng stated that the vast market has made China a driving force or even a leader in technological innovation in the automotive industry. More and more automotive related companies around the world are shifting their focus on product definition and technology research and development to China. With the increasing proportion of software in the value of the entire vehicle and the improvement of research and development efficiency through digital technology, accelerating software iteration will become the key to the competitiveness of car companies.